Intro/Background
Type II Diabetes (T2D) is a common disease – in Indiana about 675,000 individuals (13% of the residents) have it. It can often be managed with careful attention to diet, exercise, and the use of oral medications. The most common medications used for initial treatment of T2D are metformin and a class of drugs called sulfonylureas. Exposure to the medications used to treat T2D account for about 8% (356 cases) of the exposure cases reported annually to Indiana Poison Center. Management of these exposures can become complicated.
Sulfonylureas treat hyperglycemia (high blood sugar) by stimulating the production of more insulin from pancreatic beta-islet cells. For people with high blood sugar, like those with diabetes, use of a sulfonylurea causes their blood glucose to drop to the normal range. If the person does not have hyperglycemia, a sulfonylurea may cause a symptomatic, potentially life-threatening hypoglycemia (low blood sugar). These symptoms may not become obvious for up to 12 to 24 hours after ingestion, and the hypoglycemia may persist for up to 72 hours afterwards.
Exposure to as little as one tablet of a sulfonylurea medication such as glipizide or glimepiride (Glucotrol or Amaryl) can cause a severe drop in the blood sugar level (hypoglycemia). If a person does not have the disease diabetes mellitus, which causes high blood sugar, that hypoglycemia can cause serious or even life-threatening symptoms.
Since the consequences can be so devastating and since the onset of hypoglycemia can be so delayed, children and naive adults (those who are not currently taking the medication) who have taken even one tablet of a sulfonylurea class medication must be referred to the hospital.
How Can I Prevent Poisonings from Happening?
ALWAYS keep your medications in the original, labeled bottle with the CRC (child-resistant cap) in place.
NEVER mix pills in one container!

Don't put more than one type of pills in one container.
Don't put the remainder of the old prescription in with the new prescription.

Child-resistant does not mean "Child-proof"!  NOTHING IS CHILD-PROOF!
If you can possibly avoid it, don't use the daily pill boxes – they are not child-resistant.
Purses, briefcases, backpacks and suitcases are all "little children magnets".  Children love to look in your bags – that is where the candy & the presents are!  So, when you travel, don't leave your medicines in your purse, briefcase or suitcase.
When you visit homes with young children or have young children visit you – have a safe place to lock away your medications and dangerous items.  High and out-of-sight is best! If visiting, check with your host and identify a place you can keep your medications that is high and out-of-sight.  Ideally it will be a locked cabinet.
Never put medications or chemicals into anything other than their original container.
Never store medications or chemicals near food – do not put them in the pantry or the refrigerator.
Symptoms of Oral Diabetes Medication Exposure​
At first the patient may experience:
Slight anxiety, shakiness, sleepiness
Become nauseated
Their skin may become pale, cool and clammy
These symptoms can quickly to progress to symptoms that make the patient "look drunk":
They can't walk straight
Confusion
Slurred Speech
Vomiting
Eventually they appear to fall asleep, lose consciousness, and if they don't receive appropriate treatment, they may die.
If you think an exposure has happened, bring the product and the child to the phone and call Indiana Poison Center at 1-800-222-1222.
In March 2020, IPC was selected and received funds to research oral diabetes medication toxicity. We used the National Poison Data System (NPDS) between 2013-2018 to describe and characterize unintentional and intentional-misuse exposures, and where in Indiana oral diabetes medication toxicities are occurring. In particular, the project focused on the sulfonylurea class of medications and the age groups 0-6 years old and 50+ years old. These patients were selected as it was hypothesized that these age groups and the drug category sulfonylureas would have the highest rates, and the highest severity outcome from exposure.  The analysis focused on demographics, therapies, clinical effects, and outcomes of these cases. We also aimed to predict the risk of future exposures occurring by geographic area.  A secondary project involved designing an educational INTERVENTION for patients and their family members, and another one for healthcare providers, to help these various audiences learn about the risks of exposure to sulfonylureas, some of the best ways to prevent exposures, and how to respond if an exposure occurred.  For more information, please scroll to the Intervention section of this page, or click the bookmark.
How to Use the Tableau Dashboard
Select your filters
Year-2013-2018 individually or ALL years)
Substance -All Oral Diabetic Medications, Sulfonylureas Only, Non-Sulfonylurea Oral Medications
*Counts less than 5 have been hidden from view.
Findings and Statistics
A total of 1,285 cases were analyzed between 2013-2018; 877 were non sulfonylurea oral diabetic medications, 408 were sulfonylurea drug exposures.
The three counties in Indiana with the highest number of exposures to oral diabetic medications were Marion County, Allen County, and Lake County.
Between 2013-2018, Metformin was reported 1,156 times as a substance in a human exposure case. Sulfonylureas were reported 509 times.
The two age groups most at risk were 0-6 years old and 50+ years old. There were more exposures in these age groups than all other age groups combined.
Females had more exposures compared to males for both sulfonylureas and non-sulfonylureas. Females 50 years and older had a higher frequency of exposure compared to males 50+ years. Contrarily, 62.7% of exposures of children 0-6 years were male.
Young children were slightly more frequently exposed to sulfonylureas, compared to older adults (50+). Sulfonylureas were the top oral diabetic substance exposure in children under 6 years old.
Approximately, 27.5% of exposures to sulfonylureas resulted in Major, Moderate, or Death outcome, compared to 19.2% of exposures to oral diabetic non-sulfonylurea drugs.
There was a higher frequency of 50+ year olds having MMD outcomes (n=74) compared to 0-6 year olds (n=61).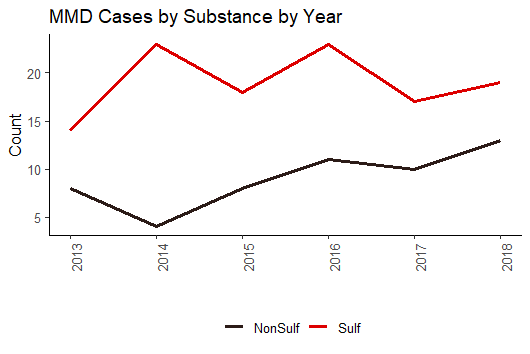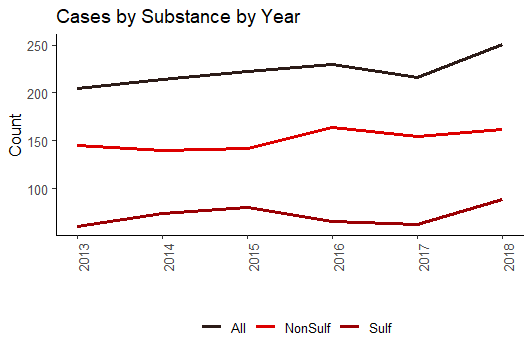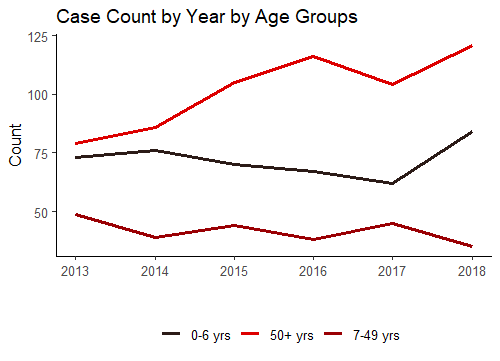 The intervention program was designed to disseminate statistical information, prevention/poisoning education, signs and symptoms of exposures, and what to do if you have been exposed. The program is currently being offered to diabetics and their families in Indiana as well as health care providers (diabetes educators, dietitians, physicians), and public health/community stakeholders across the state. If you are interested in attending a presentation, please email Gwenn Christianson at [email protected]  or click the 'Contact us for a Presentation' link below.
**Due to COVID-19, most presentations are occurring via Zoom. Presentations last approximately 30 minutes, and are completely free.**
Acknowledgments and Special Thanks
IPC would like to give special thanks to Biocrossroads for sponsoring this project. Additional thanks and acknowledgement to the Krenicki Center at Purdue University for their help with the development of the Tableau Dash and assistance with the predictive modeling.
Please contact Shannon Penfound, [email protected] for questions about this project or for questions about data acquisition.
For additional Poison Prevention/Education Materials please visit this page on our website: Poison Eduction
Last updated on 7/13/2020